On Thursday 9 July, Fadilec carried out a demonstration with ReCOVery at the BARBA Group's production site in Villeneuve-les-Béziers, Occitanie, a company in the agri-food sector that specialises in the processing of seafood and fish trading. Mr. Didier Farigoule of Fadilec presented this robot to Mr. Hervé Barba ( Chief Executive Officer of the Barba Group) and Mr. Diaz (Production Manager).
This robot is the result of a collaborative project between Fadilec, Innowtech, Sirea and Sterixène. It is intended for businesses, industries in all sectors, hospitals, retirement homes, local authorities etc., to manage the requirements for disinfection, risk prevention and health, optimise the economic and environmental impact.
Its purpose is to destroy  all traces of viruses (including Covid-19), bacteria, moulds.
Autonomous, wireless on battery, pilotless, intelligent (data management module), agile, light (50kg), compact and fast (around 30 minutes for a 30m² room between 0 and 50 °C ambient temperature). It moves around in premises containing furniture, avoids or passes over obstacles (equipment, furniture etc.) and enters through staff access doors. It even operates with reduced brightness.  Eco-friendly disinfection is ensured by two systems: one by LED-UV light (without mercury) and the other by nebulisation of hydrogen peroxide (this solution does not increase the ambient humidity).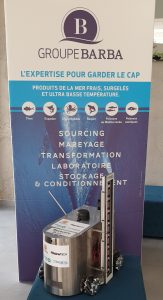 Microbiological tests were carried out in the laboratory before and after the robot had passed through to measure the effectiveness of disinfection on bacteria found in the food industry (listeria, salmonella). The efficiency of disinfection was been tested and measured in the laboratory with proven disinfection results greater than 98% on bacteria.
At half the cost of the robots marketed to date, this technology is particularly cost-effective.
 We would particularly like to thank Mr. Hervé Barba for welcoming us and his interest in this robot as well as the association AREA Occitanie (of which Fadilec is a member), which made this event possible.
 Images https://youtu.be/4T23296zdT4