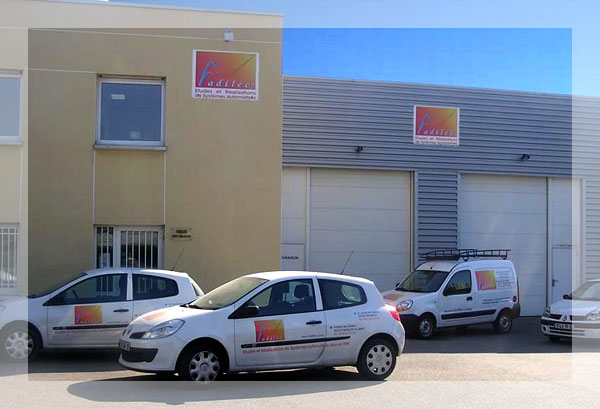 FADILEC engineering – at the service of your industrial projects
Our two design offices with their experts in engineering and integration of global solutions are able to support you with all the projects you entrust to us and to meet the specifications we are given.
FADILEC carries out 100% of the projects it takes on internally, delivering turnkey systems for processes that integrate complex automation architectures.
Our two offices in Laudun near Nimes and in Vénissieux, near Lyon offer you a local service by positioning itself as a single point of contact: expertise, quick responses, flexibility, optimised costs and compliance with deadlines are the guarantees of our customers' satisfaction.

To lay the foundations for your project, the expertise of our two design offices in Vénissieux (69) and Laudun (30) is spread over four departments:
Special machine – Robotics
Process (continuous/discontinuous)
Test bench
Nuclear measurement
For the sake of consistent cooperation and efficiency, our engineers and technicians work together to analyse your needs, produce a summary or final draft, write up specifications; they then carry out the mechanical design as well as electrical and instrumentation studies and the necessary automation or computer studies.


After completing the study and design of your project, our teams then move on to the implementation and control phase.
Manufacturing of mechanical parts
Software development
Drafting of test procedures
Platform simulation tests (PEE–FAT)
In our two workshops of 300 m² each, we carry out:
Manufacture of electrical and pneumatic cabinets
Factory pre-wiring of the various sub-assemblies
Assembly and the first mechanical adjustments.

On-site integration  is the final step of your project.
Once manufacturing is complete and the software solutions finalised and approved, it is time to implement everything on your production site.
During this sensitive stage, FADILEC remains very committed to the safety aspect.
Our authorised teams come to your facilities to deliver, assemble and connect the equipment.
Once this stage has been completed, the test teams are mobilised to commission the project as a whole. The test procedures are recorded (PEE – FAT).
We are an approved training organisation and can therefore provide training for your employees.

If necessary, our qualified engineers and technicians can come to your premises or to your customers, in France and internationally.
Our professionals have all the qualifications required to work on your sites, whether this is with regard to mechanics, electrics, robotics, instrumentation, automatism, IT or measurement.
We have highly qualified personnel, authorised to intervene in all our areas of activity.
You can also call on us for compliance and renovation of existing facilities or for designing maintenance contracts.
We also carry out expertise audits for software security and machine safety.