The new premises of Cleantech Vallée and the photovoltaic park were inaugurated on 26 September 2019 in Aramon by Le Préfet du Gard. The site of the former Aramon thermal plant, it had undergone an industrial conversion via ecological transition by creating a 6.5 hectare photovoltaic park to develop renewable energies.
Mr. Jean Bernard LEVY (Chairman of the EDF Group) and Mr. Anthony CELLIER (MP of the 3rd district of Gard) were invited for the occasion. The members of Cleantech Vallée and the companies that are part of the booster programme, which includes FADILEC, were also present.
Didier FARIGOULE (CEO of the FADILEC Group) was able to initiate a discussion with Mr. LEVY and Mr. CELLIER in charge of multi-year energy programming in the government. Mr. FARIGOULE underlined the need for SMEs to have the support and assistance of large groups to continue to develop – and especially to innovate.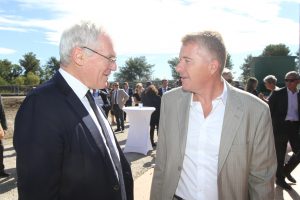 As a reminder, Cleantech Vallée was created on the basis of an Ecological Transition contract (CTE) between the state, the region, local authorities, EDF and socio-economic players in the area (ADEME, AD'OCC, Banque Populaire, BRL, CCI du Gard, CEA, Orano, Sanofi, Cyclium, Enedis and UIMM).
In July 2019, Cleantech Vallée selected 11 innovative companies and start-ups working on innovative and collaborative subjects. Fadilec was selected for robotics for inspection and measurement in a hostile environment.
The objectives are also to support and accompany for 9 months the companies and innovative start-ups that have been selected, to accelerate their growth and job creation.