This innovation was born from a collaborative project between the companies Innowtech, Fadilec, Alfileo, Stérixène and Sirea, 4 of which are based in Gard. This product has the advantage of offering a range of impacts in terms of risk prevention and health – operationally, economically and environmentally.
It is a robot for disinfecting ambient air and surfaces (floors, walls, equipment, furniture). Inexpensive, space-saving, agile, autonomous, wireless, it meets all requirements. The technological building blocks upon which it is based have already been tested, validated and proven in other industries on other devices or robots on the market.
For more information, please refer to the Midi Libre article.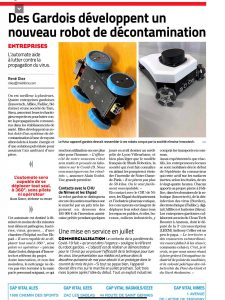 27/04/2020